Our newly created synthetic stones feature a round brilliant cut that produces the ideal balance of brilliance, scintillation, and fire ever displayed by laser engraved round-cut crystals in Moissanite Cubic Zirconia jewelry. It is a representation of geometric precision. 
It is named after a bright stellar explosion in which the star reaches maximum intrinsic luminosity billions of times greater than the sun.
Moissanite Cubic Zircinoa
Fine Jwellery Stone
Moissanite crystals are thought to have come to Earth years ago during a meteor strike. It is also known as stardust or space diamond. 
Moissanite is made of silicon and carbon, whereas cubic zirconia is composed of a combination of zirconium and oxygen. 
Long wax casting works well with CZ or American diamonds. Due to its hardness, cubic zirconia makes a perfect raw material for jewelry manufacturing. Moissanite ranks at 9.25 on the hardness scale and is the hardest gemstone used in jewelry after diamonds. Cubic zirconia rates between 8 and 8.5. Hence, Moissanite and CZ are incredibly durable and abrasion-resistant stones that are great for everyday use. Even after being exposed to fire, they would maintain their lustre and shape because they are more heat resistant than even diamonds.
Even when modern technology, specialized knowledge, and expensive equipment are needed to create moissanite and cubic zirconia stones, they are much more affordable than diamonds. These gemstones only cost around 10% of what a diamond would cost.
Moissanite is ideal for engagement rings as it has the additional thrill of interstellar romance because of its celestial origin. The refractive index of moissanite is 2.65, which is even more than that of a diamond ( 2.42 ). Additionally, due to its anisotropic optical character, the property of double refraction gives moissanite extremely high levels of sparkle and magnificent light performance, not to mention its gorgeous signature rainbow effect. Its superior brilliance and fire compared to diamonds is the reason why it is preferred for engagement rings. Almost always flawless, excellently clear, and devoid of colour, CZ is created to be perfect and flawless. Every stone in CZ jewelry actually has a colour grade of D, the highest rating for diamond colour.
We adhere sternly to a comprehensive program of environmentally friendly business practices and production techniques that complies with all important EU standards and global industry regulations.
Certifications
The MAXIMA line's superior quality is certified to the following standards:
ASTM F2923
Standard requirements for the security of consumer goods for jewelry for children
CPSIA
Consumer product safety improvement act
Safety of toys
Limits on the migration of heavy metals under Directive 2009/48/EC
OEKO-TEX STANDARD
Product Class II
REACH
Registration, Evaluation, Authorization and Restriction Of chemical substances
ROHS
Restriction on Use Of Hazardous Substances
Innovative and modern, just like the eyewear and jewelry designs they are meant to inspire, our special-cut fine gemstones are made for special occasions. Intricate, baroque-inspired cuts like the Lotus cut and a variety of smooth, geometric cuts for Genuine Marcasite are just as alluring as they are distinctive.
For our fancy cuts for fine jewelry stones, we carefully chose the most conventional gemstone cuts, and each one was painstakingly made in-house using the most cutting-edge software. Our fancy-cut synthetic stones are renowned throughout the gold jewellery, silver jewellery and other wide range of ornament related industry for their unrivalled quality and light dispersion because they are individually cut and polished to scintillating perfection.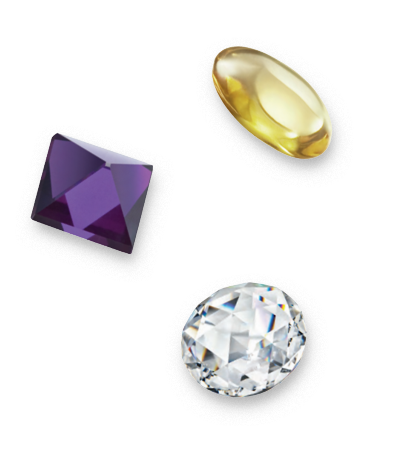 We carefully craft our round cuts to have a size variation tolerance of 4/-0.02mm. We have a diverse selection of colours and coatings.
Due to their meticulous individual cutting and polishing, our stones are renowned for their unmatched quality and light dispersion. Using the most advanced software, we painstakingly designed each of our fancy cuts for fine jewelry stones while carefully choosing the most well-liked gemstone cuts.
"We produce stones that have been acquired using moral and sustainable methods." Our stones are ethical, environmentally conscious, and cost-effective."
appropriate with last-wax casting.
appropriate for lost-wax casting. Cubic zirconia crystals, the synthetic alternative to natural diamonds, also known as American diamonds, have an ideal structure, extreme hardness, and exceptional light dispersion. made exclusively from the best materials. The gemstones in CZ jewellery are individually polished from inclusion-free rough material to produce an even brighter fire than their naturally occurring counterparts.
appropriate with last-wax casting.
Synthetic spinel is one of the brightest and most durable imitation crystal. The most uncommon colour of naturally occurring spinel, blue, is available in three shades of synthetic spinel. It is also available in a variety of our exquisite round and fancy cuts.
appropriate with last-wax casting.
Ruby is the common name for red corundum crystal, which is second only to diamonds in terms of hardness and is noted for its intense colour. Synthetic corundum is available in two alluring shades of red, is made from the finest raw materials, and is available in a variety of our most popular round and fancy cuts.